As a mother who is always looking for quick, healthy snack options, I absolutely fell in love with these no-bake energy bites, which I adapted to meet the nutritional needs of my family. And while I'm neither a chef nor a nutritionist, I have spent the last 4+ years studying food and nutrition out of necessity since discovering my daughter had multiple food sensitivities as an infant (which impacted our family in all kinds of challenging ways). If I had to sum up all that I learned in a single sentence it would be "eat real food according to your individual body's needs." In other words, shop the outside perimeter of the grocery store and pay attention and trust your and your children's bodily response.
I hope your taste buds and your bodies enjoy these as much as we have!
Ingredients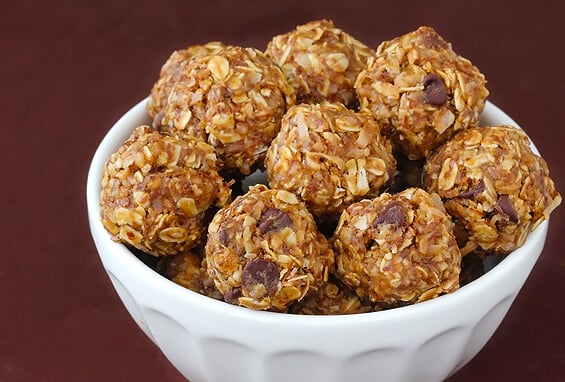 Picture from Recipe Source: Gimme Some Oven
Method
Stir all ingredients together until thoroughly mixed, then cover and chill for 15-20 minutes. Once chilled, roll into 1T size balls (you can make them any size, but we liked this size best). You can store them in the fridge in an airtight container for up to 1 week.
Additions
A friend of mine introduced me to this wonderful recipe, and she also includes these ingredients for some variations…we've tried them all with great pleasure, although not all at once, LOL
1/3 cup crispy rice
1/4 cup Enjoy Life chocolate chips (dairy, soy, and gluten free)
1/4 cup dried raisins and/or cranberries
Note: I am going to try the oats soaked the next time I make them!
NOTE: Gimme Some Oven slightly adapted her recipe from Smashed Peas & Carrots. Feel free to check out both sites!
Here are some great books on health and allergies, for those interested.
Food Allergy Survival Guide
Nutritional Healing
Wheat Belly
Wheat Belly Cookbook
Practical Paleo
Thrive
Please follow and like us: