Incredible change can happen when incredible people touch your life.
Gratitude and love for L.R. Knost, who has touched the lives of so many of us.
From the hearts of our children, we send gratitude, we send love, we send hope.
---
 From the hearts of Amy Bryant and Family
You are the model of gentle parenting with love and grace. You have my deepest gratitude for showing me how to recognize the fullness of my daughter's heart and the joyful fullness of her behavior. You are a true light; a gift to children and parents alike. Thank you. My heart and thoughts, and those of my family, are with you and your family.
-Amy Bryant
Parenting Beyond Punishment and Play At Home Mom
---
From the Hearts of Ashley Kagan and Family
To a woman filled with selflessness and grace.  You're an inspiration as a mother, a writer, and a child advocate.  Thank you for touching so many lives and being an advocate for children everywhere.  Sending thoughts and prayers to you and your family.
~ Ashley Kagan
Play at Home Mom & Parenting Beyond Punishment
---
From the Hearts of Lindsay Hennings and Family 
Sending love and prayers. Thanks for paving the way for gentle parents. Your work truly makes a difference!
-Lindsay Hennings
Parenting Beyond Punishment
---

From the hearts of Sheena Hill and Family
I pray and trust that you are blessed with the all the strength, courage, and support to regain your full health and vibrancy. You and your family are in my prayers.
Love from Baltimore,
Sheena
Parenting Works
---
From the hearts of Jennifer Andersen and Family
Yours was one of the first places of support I found as my family and I moved away from what was expected of us, and toward what felt right for us. You are a lighthouse that brightens our way. There are of course, countless other families who can say this. Your words continue to make the world a more peaceful, and loving place, everyday. So many are grateful to you, LR – including my own family.
We are thinking of you, praying for you, and sending you healing wishes. We send warmth, love, and support to your family. We look forward to celebrating that this is behind you, and that you are again able to focus on the people and work you love.
You are deeply loved, LR – even by people you've never met, and we all hope you feel this from the world over.
Love,
Jennifer Andersen
Our Muddy Boots
---

From the hearts of Rebecca Eanes and Family
 You inspire me every day as a mother, a writer, a Christian, and an advocate. I am forever grateful for your light and wisdom. I know thousands of other parents can say the same. When I told my children what you do, their eyes lit up, and my 5 year old wrote what he wrote without any direction from me at all. He wrote this: "I ♥ you. You have brought hope to many kids." Your mission to touch little hearts has reached our home for sure.

Praying in faith for your healing. Sending love from all of us.

Rebecca Eanes
Positive Parenting: Toddlers and Beyond
---
From the Hearts of Jennifer McGrail and Family
Your words have helped, encouraged, and guided a growing community of parents and children for years now… not just because you speak them, but because you LIVE them. Your kind heart and your gentle, beautiful soul come though with every word you write. You are a loved, trusted, and reassuring voice for so many. Please know that that very same community is lifting you up right now, and sending you endless amounts of love, light, and prayers.

With love and gratitude,
Jennifer McGrail
The Path Less Taken
---
From the Heart of Samuel Martin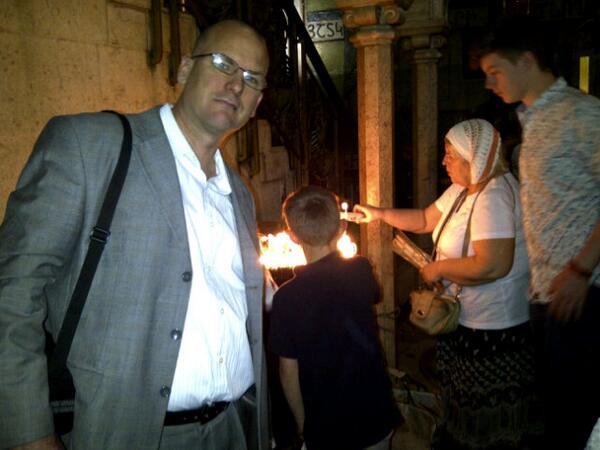 Best wishes from Jerusalem, the home of the Mother Church. LR, you are our Mother, we love you. You are a healer of myriads, a gentle mother and friend to thousands. You teach and remind us of what we know is true, right and holy. God be with you and may you be filled with His healing power. Amen.
Samuel Martin
The Church of the Holy Sepulchre in Jerusalem
---
From the Heart of Lori Petro of TEACH Through Love
---
Join the positive parenting community as we support L.R.Knost
in her cancer fight and in her work to share the gift of gentle parenting!
Share your gratitude and well wishes on her Facebook page (click HERE).
Send cards, letters and drawings to:
Read About Her Journey
"I know that Facebook doesn't show all of my updates in your newsfeeds, so I thought I'd share all of the updates to this point for those who've missed them and then share my diagnosis at the end."
"I lay awake throughout the night, listening to the even breathing of my sleeping eight-year-old nearby and cuddling my tiny cosleeper close and praying desperately for all of my children as I head into the unknown."
Best-selling parenting and children's book author, L.R.Knost, is an independent child development researcher and founder and director of the advocacy and consulting group, Little Hearts/Gentle Parenting Resources, as well as a monthly parenting and education contributor to The Natural Parent Magazine. She is also a babywearing, breastfeeding, cosleeping, homeschooling mother of six. Her children are a 26-year-old married father of two; a 24-year-old married Family Therapist working with at-risk children and families; a 19-year-old university pre-med student on scholarship; 15 and 8-year-old sweet, funny, socially active, homeschooled girls; and an adorable and active toddler. Two Thousand Kisses a Day: Gentle Parenting Through the Ages and Stages; Whispers Through Time: Communication Through the Ages and Stages of Childhood; The Gentle Parent: Positive, Practical, Effective Discipline; and Jesus, the Gentle Parent: Gentle Christian Parenting are the first in the Little Hearts Handbook series of gentle parenting guides by L.R.Knost. The next book in the series, Raising Bookworms: Life, Literacy, and Learning, is due to be released in November 2014. Other works by this award-winning author include a children's picture book, A Walk in the Clouds, due to be released September 2014, and Petey's Listening Ears, the first in her Wisdom for Little Hearts series for ages 2 to 6, which are humorous and engaging tools for parents, teachers, and caregivers to use in implementing gentle parenting techniques in their homes and schools.
The Little Hearts/Gentle Parenting Resources support team includes a retired elementary school teacher and school administrator with a Master's in Educational Leadership, a Family Therapist with a background in early childhood education, and a gifted artist/illustrator.
Contact Information:
Email: littleheartsbooks@live.com
Facebook: https://www.facebook.com/littleheartsbooks
Twitter: @LRKnost_Author
Pinterest: http://pinterest.com/lrknost/
Amazon Author Page: http://amazon.com/author/lrknost
Please follow and like us: